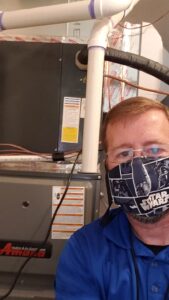 Cover Your Assets Home Inspections, LLC is an independent locally owned and operated home inspection company based in Burke, Virginia.
My job as your home inspector is to provide you with a comprehensive, fair, and objective evaluation so that you can make the best decisions regarding your valuable investment. I work directly for you, and I want my employer happy, so I promise you will get an honest and thorough home inspection from me.
My reports are detailed yet easy to read and understand. I explain the problem, why it is a problem, and most importantly, I make recommendations on how to fix the problem. I include numerous photos that include arrows, circles showing the issue and explanations so you can see what I am seeing. I also use an easy to understand color-coded system so you can see the difference between a minor maintenance issue, repair or replace issue, or an important safety issue.
A little about myself: I am 48 years old and have been in the construction field for almost 30 years now. I served in the US Air Force as an electrician on a mobile construction team living in the United Kingdom. That team was responsible for building and remodeling US owned and operated buildings around the world.
When I returned to the USA, I worked for a government contractor and once again found myself traveling around both the USA and the world working on construction sites. While I enjoyed it, I wanted to settle down in one area and start a family. While here in Northern Virginia, I purchased, renovated, ran, and then sold two rental properties and always thought I would get into house flipping as this area has many opportunities for that business. When I met a home inspector who was inspecting the home of a friend, I was amazed at how professional and thorough he was. I thought to myself, "I want to do this!" and I approached him about training me.
He agreed, and a year later, I was a certified member of the National Association of Certified Home Inspectors as well as a Licensed VA home Inspector. Since starting my business in 2013, I have performed over 2800 home inspections for buyers and sellers in the Northern Virginia area. I love what I do, and I hope to show you one day when you buy your dream home.
I currently serve the Northern Virginia area but will travel to Leesburg, Warrenton, Nokesville, and Stafford. I look forward to hearing from you.